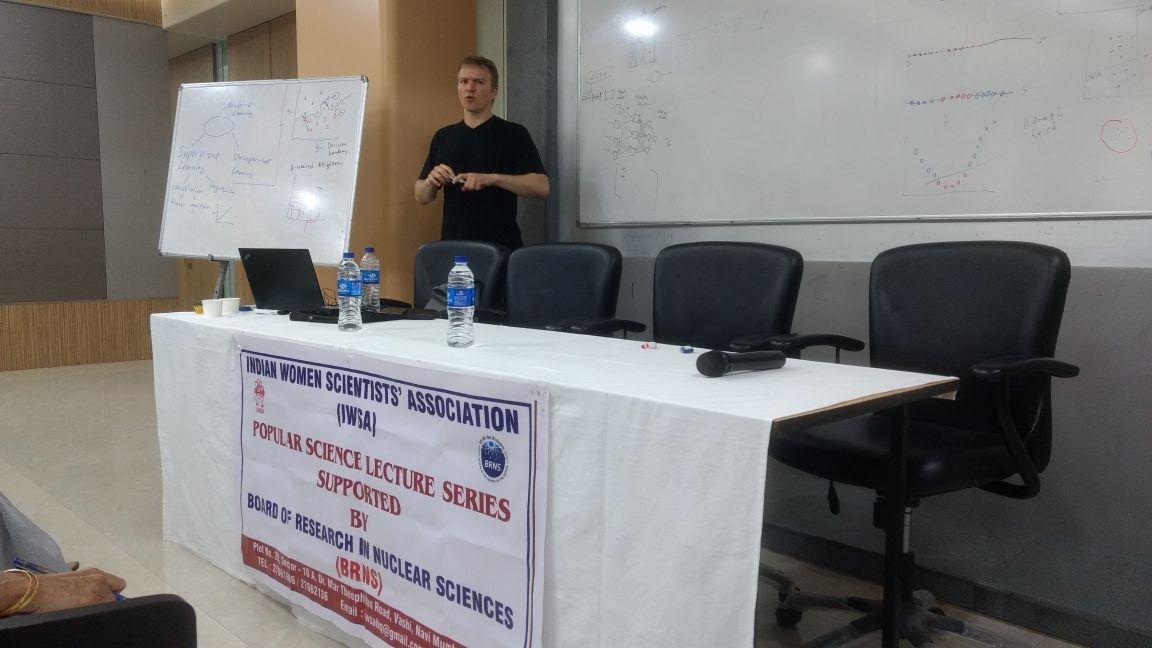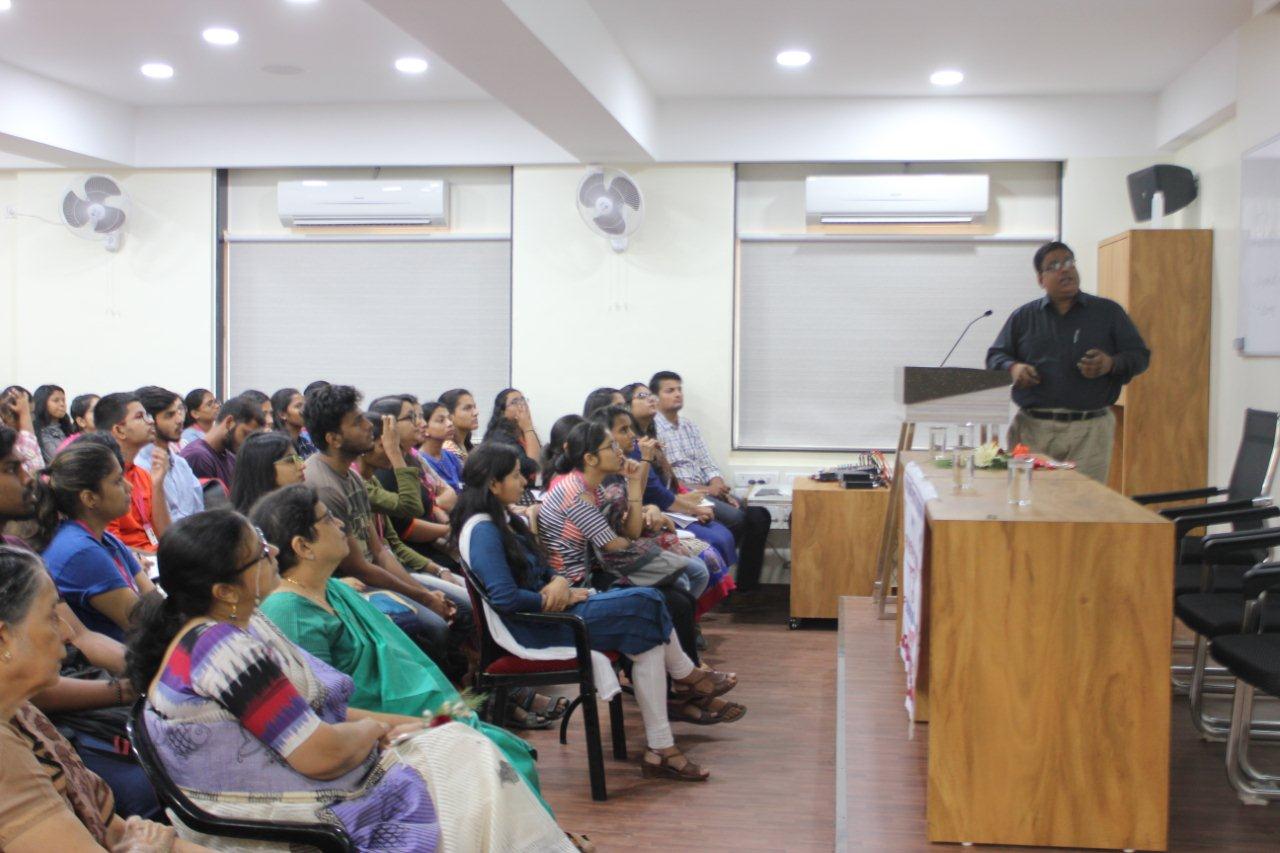 Dr. Sanjay Gupta at SIES College, Sion
Dr. Sanjay Gupta at SIES College, Sion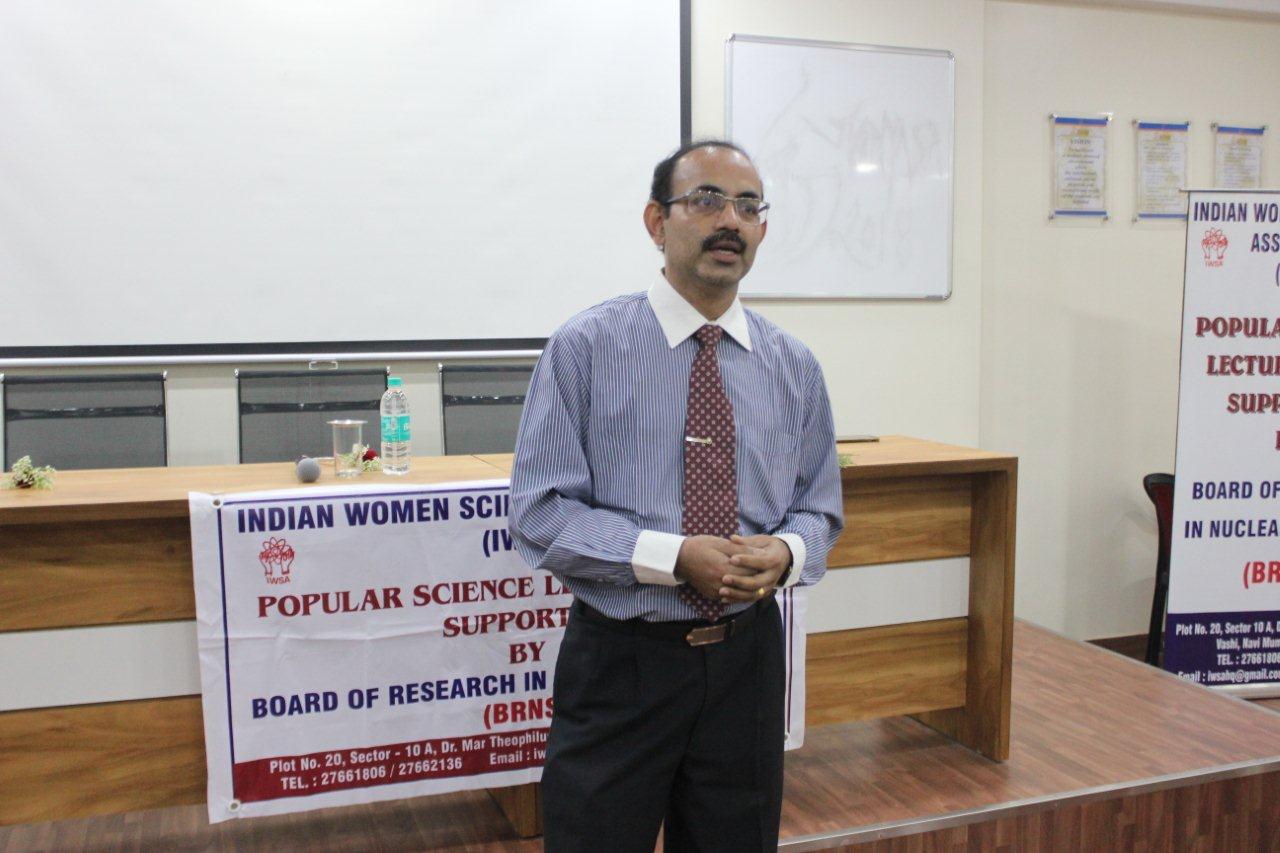 Dr. Bobby George at SIES College, Sion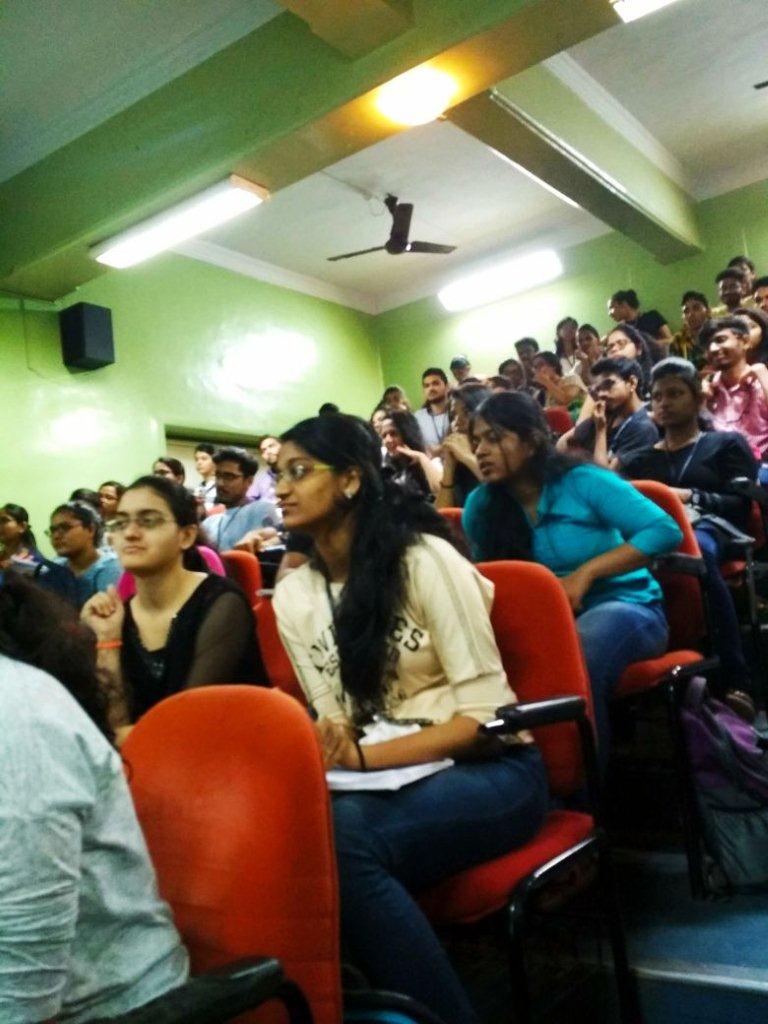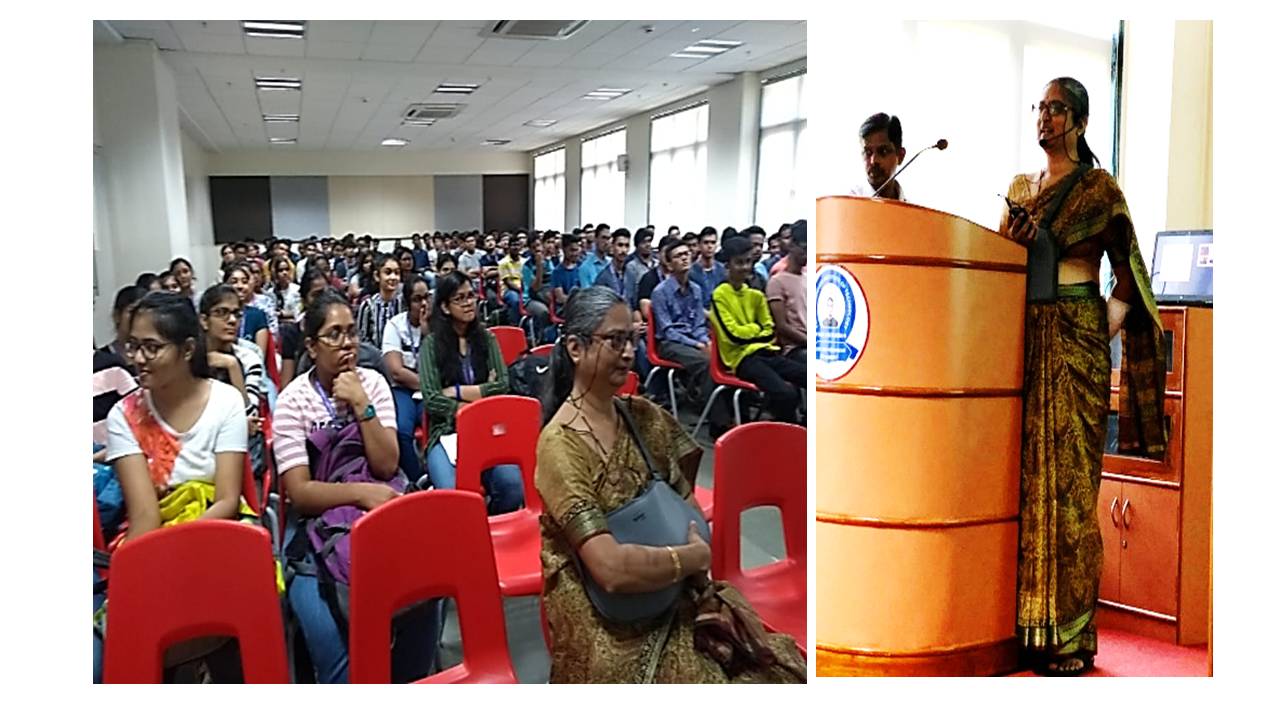 Ms. Kavita Dixit at Fr. Agnel's
Institute of Technology, Vashi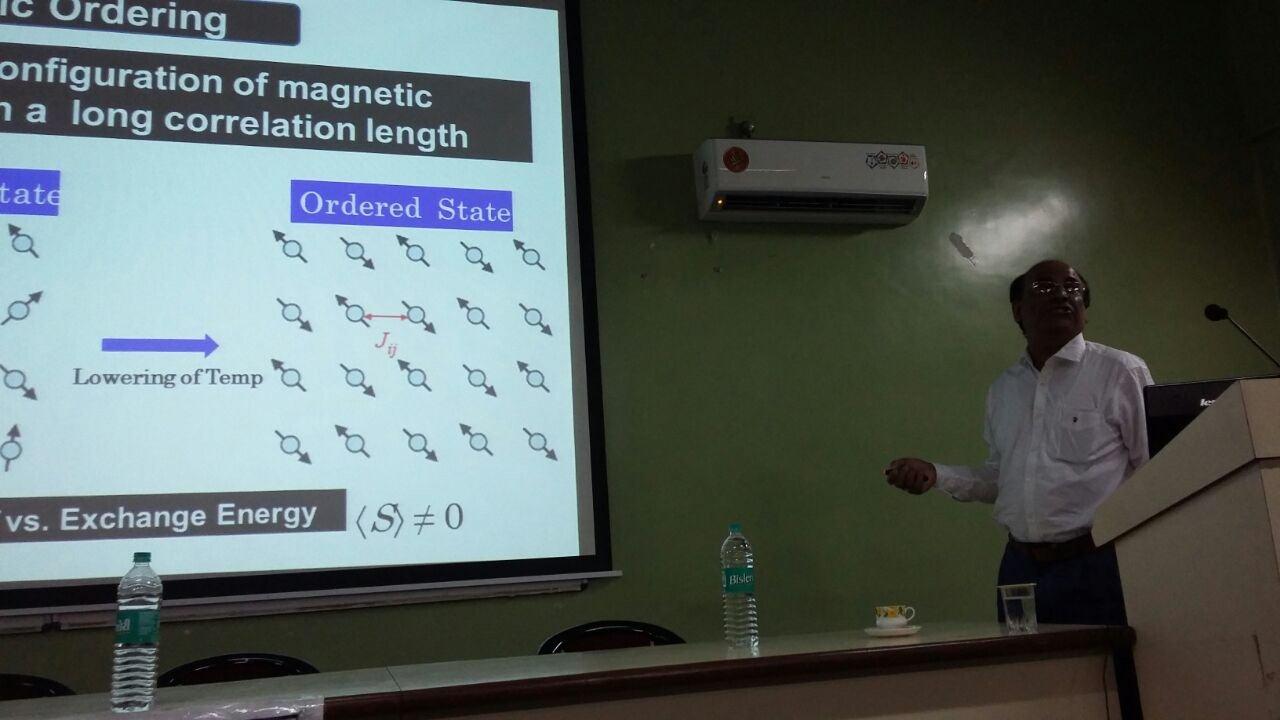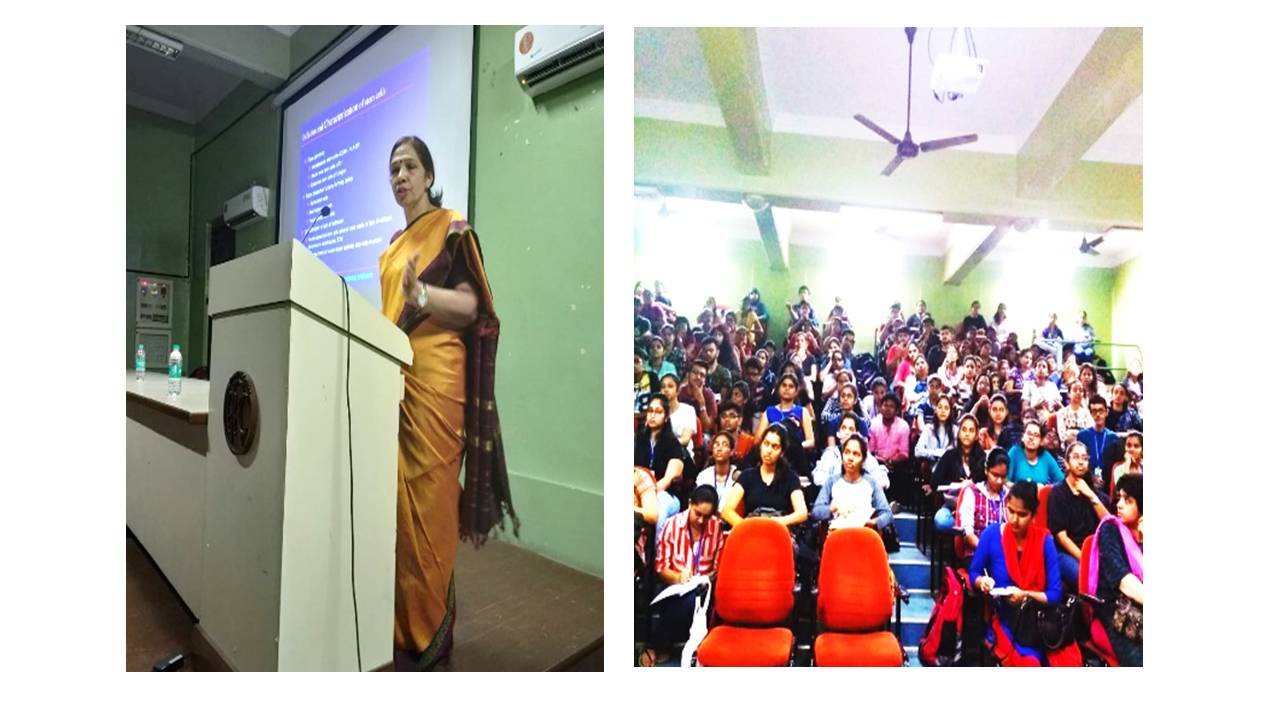 Dr. Chandra Viswanathan at
Ramnarain Ruia College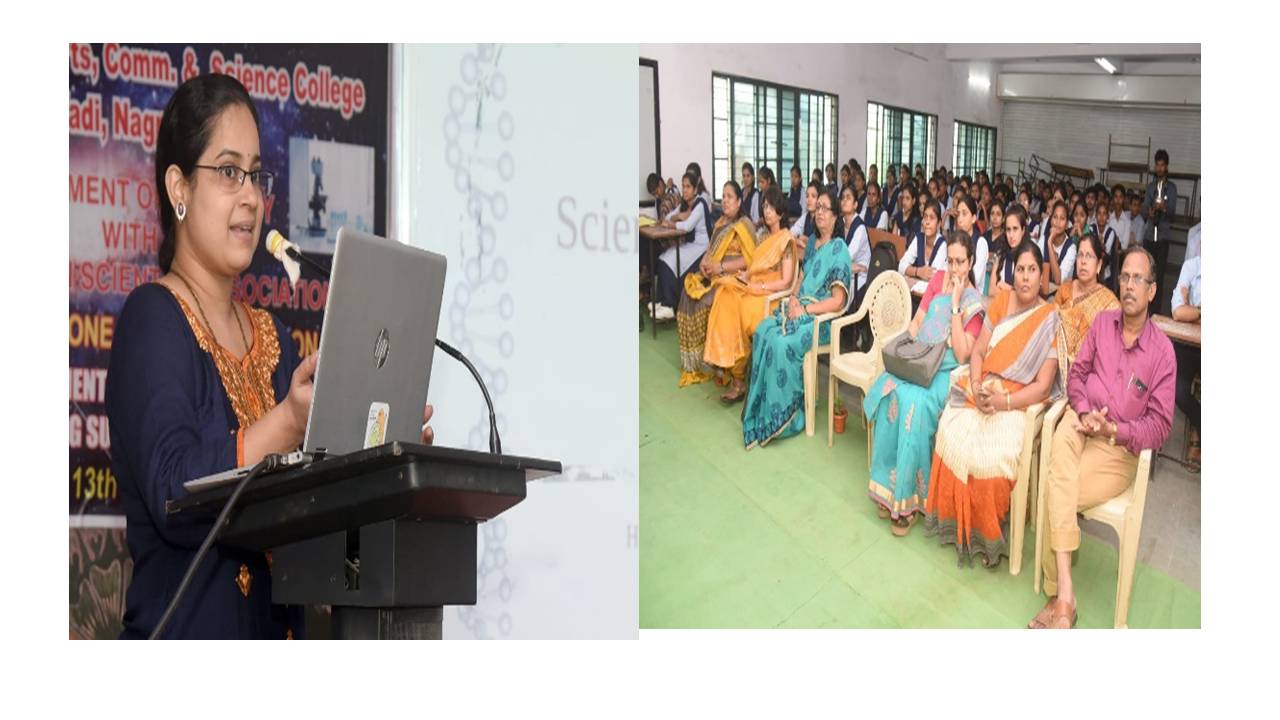 Dr. Rohini Karandikar Jawaharlal Nehru College of Arts, commerce, Science, Wadi, Nagpur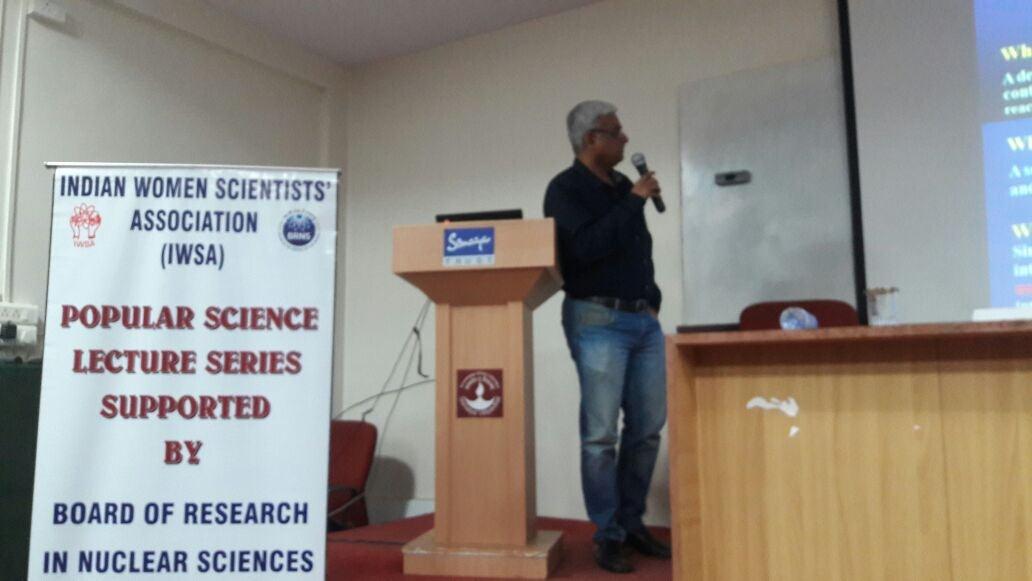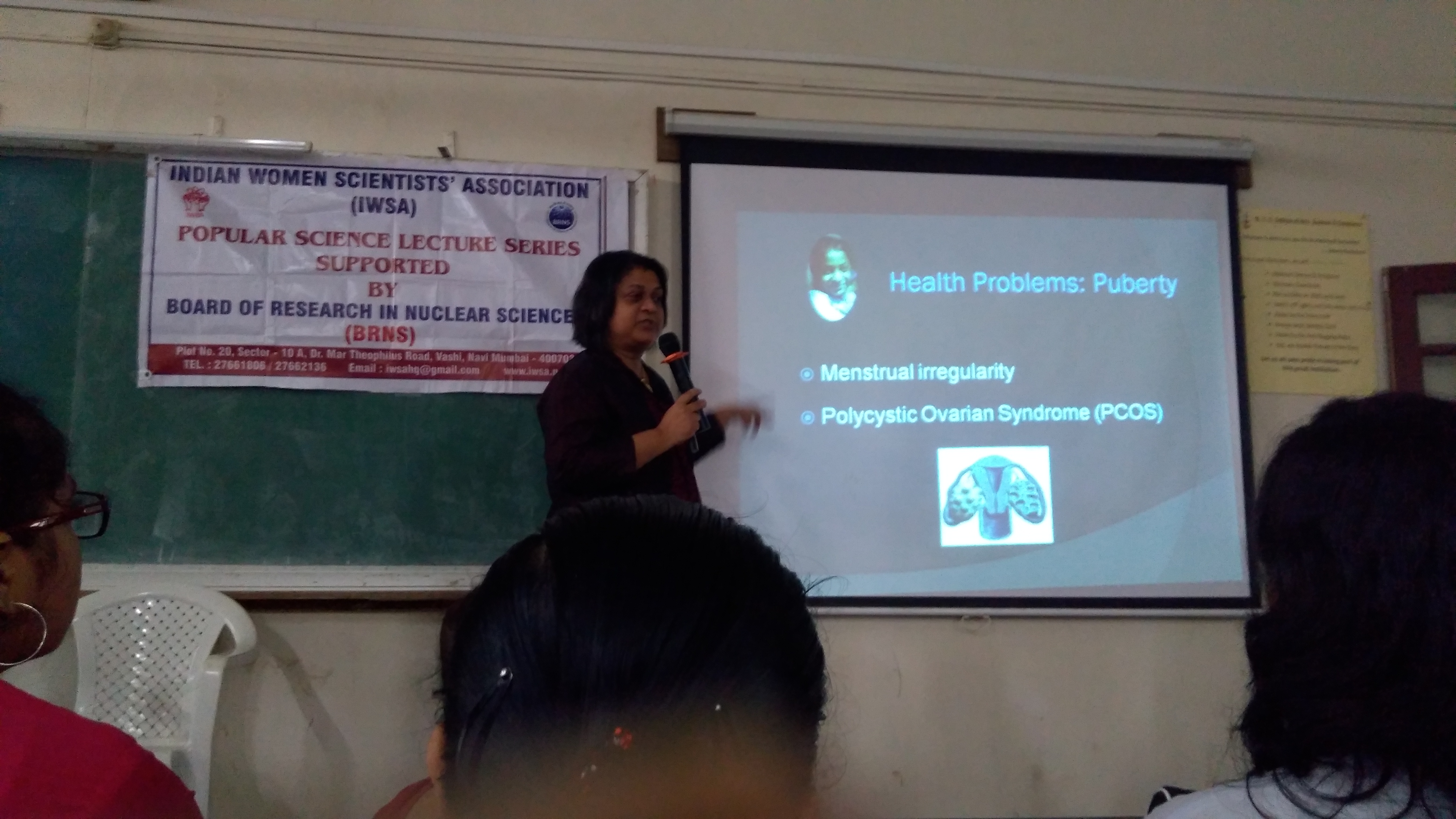 Dr. Santoshi Prabhu at VES College, Chembur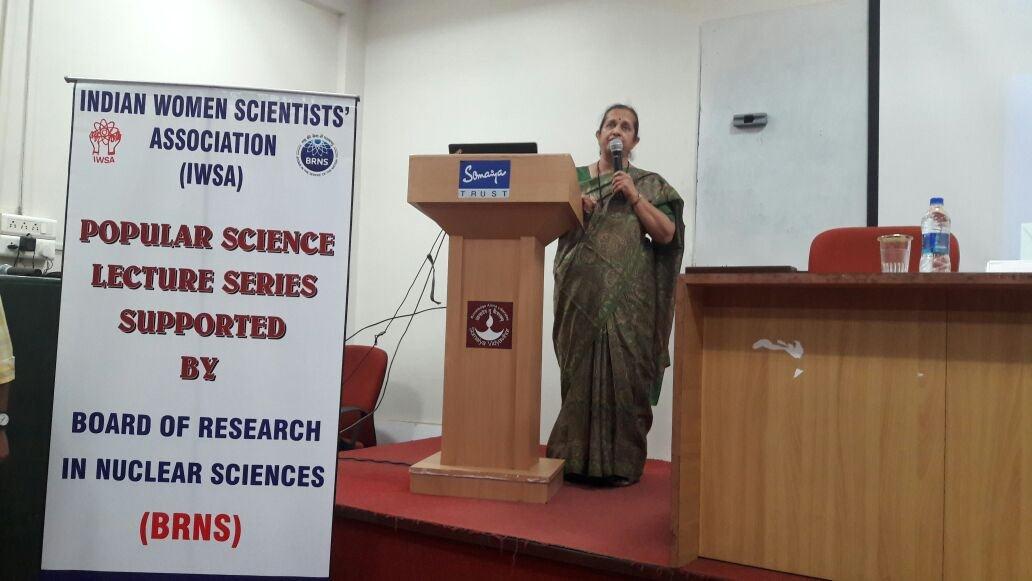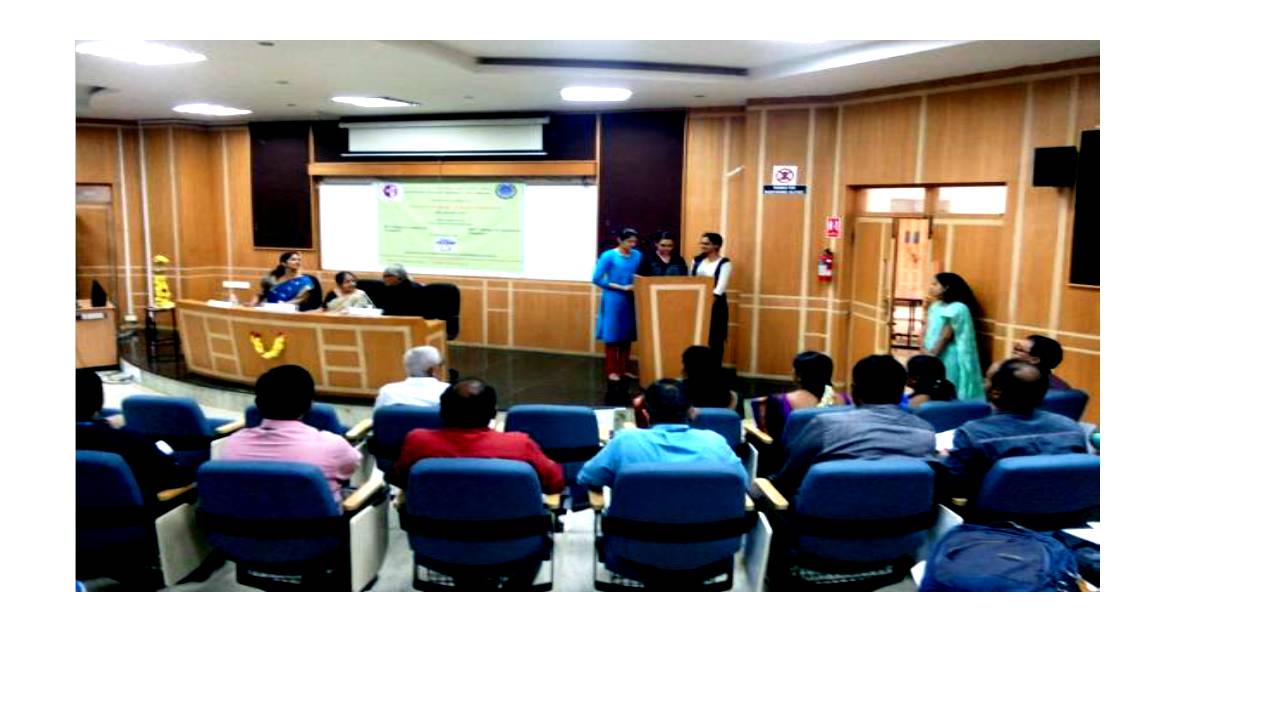 Inauguration of the Lectures on "Characterization of Nano Materials". Bengaluru Branch 28th December, 2018.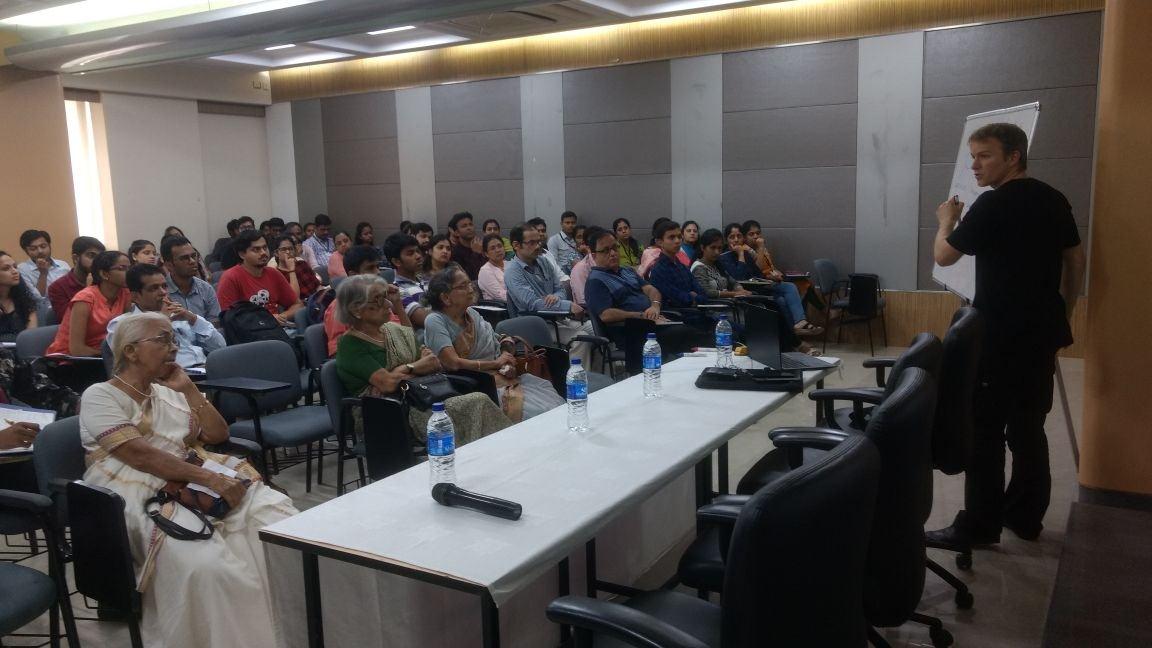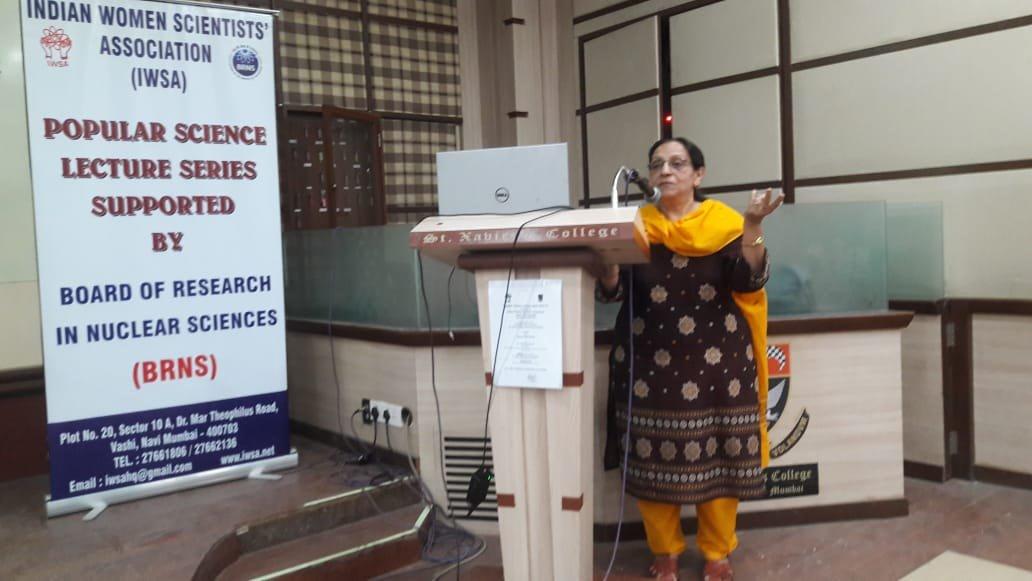 Dr. Nafisa Balasinor
at St. Xavier's College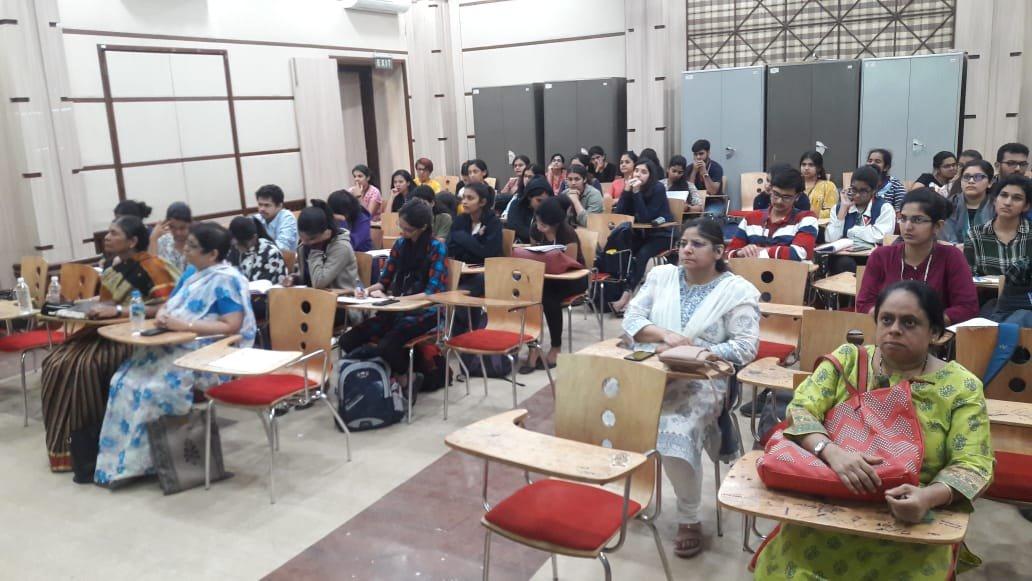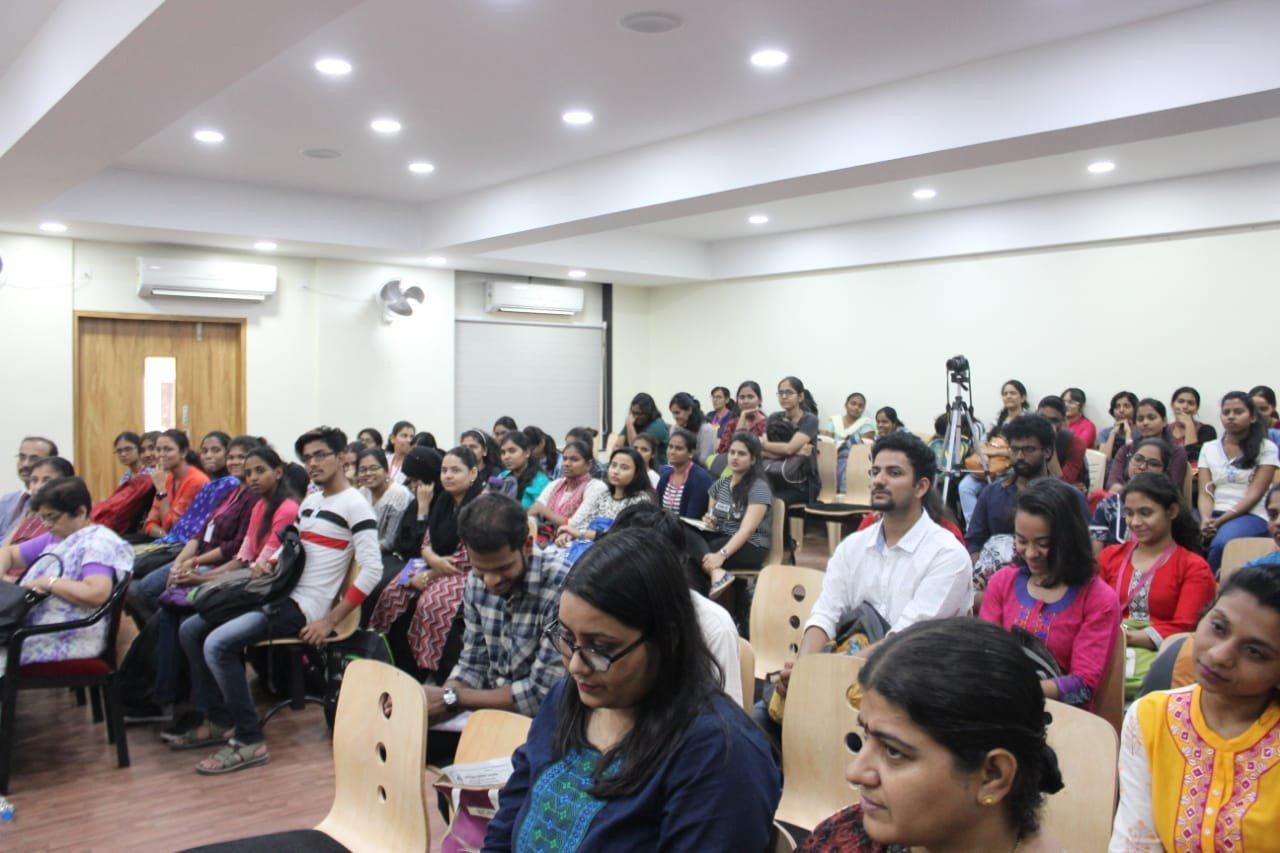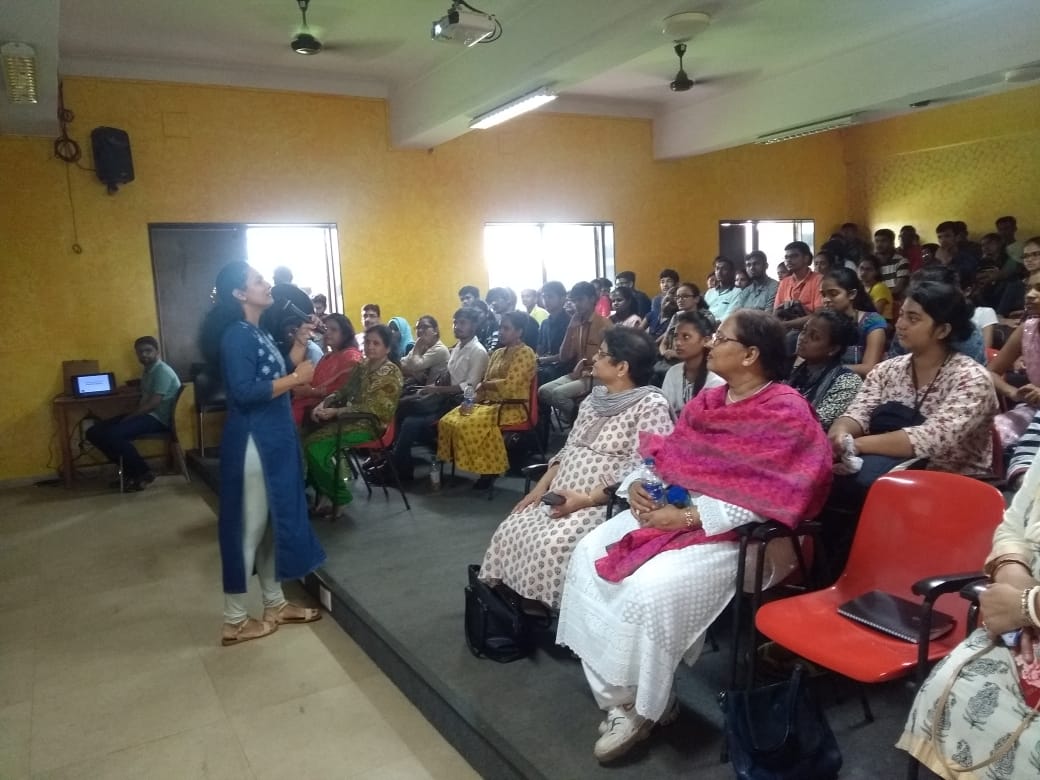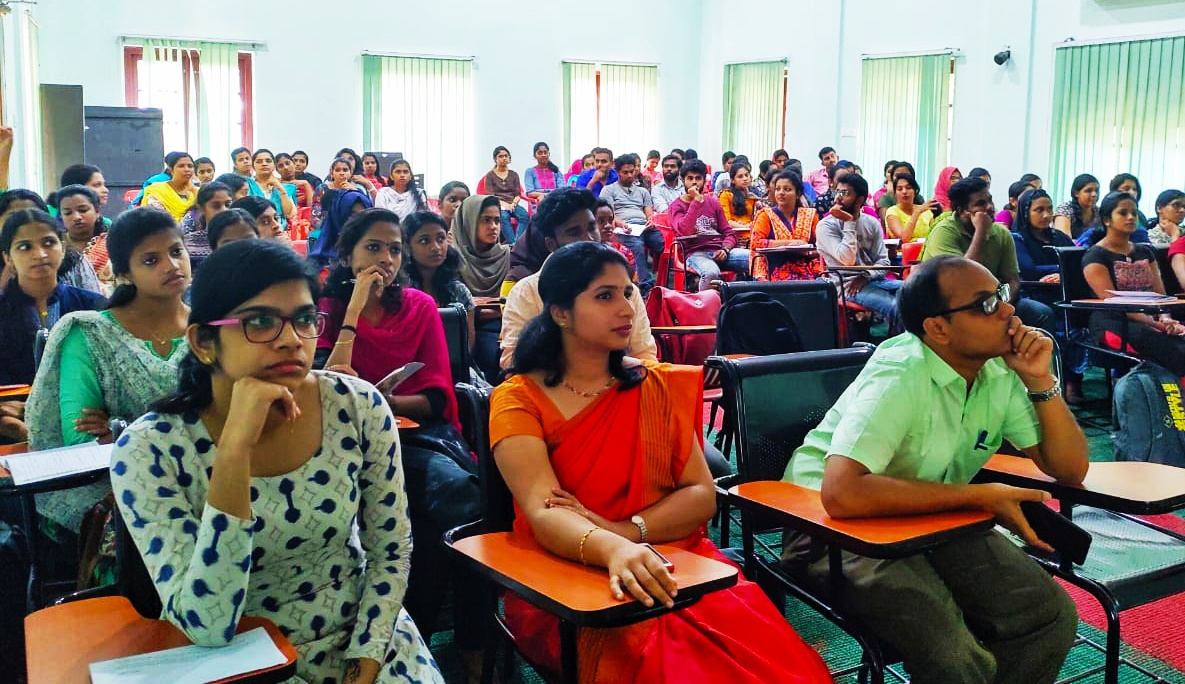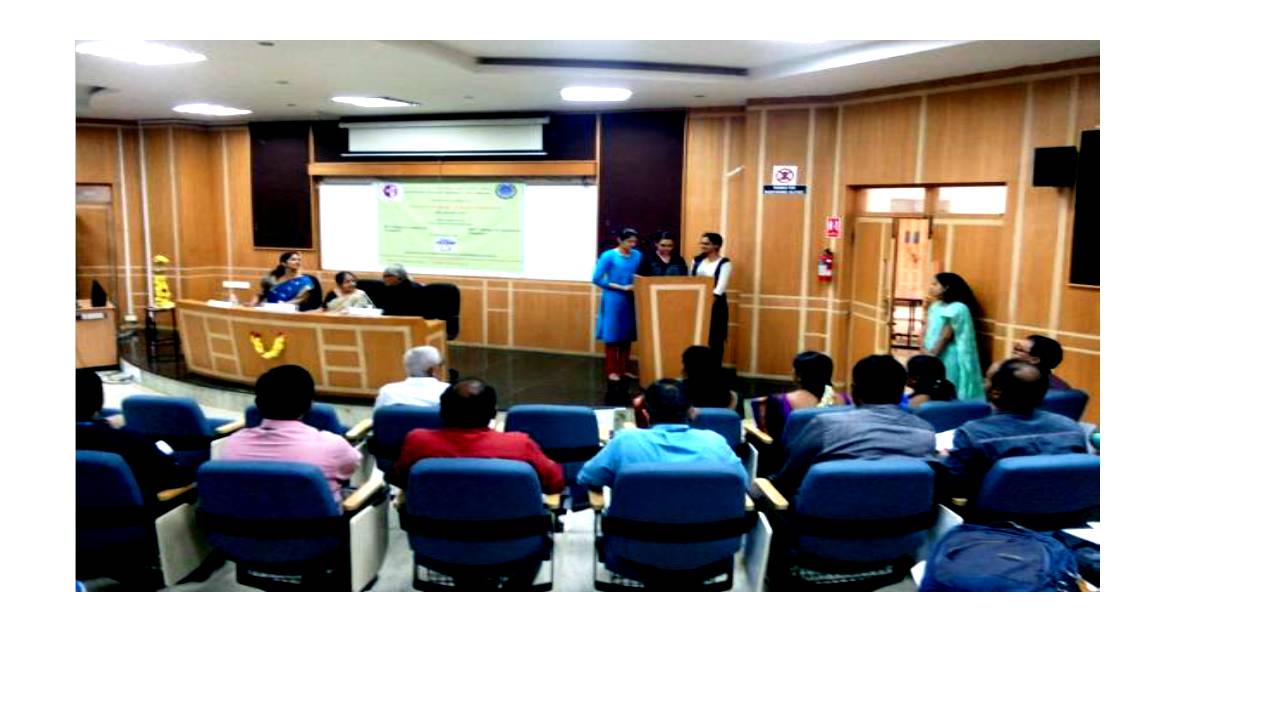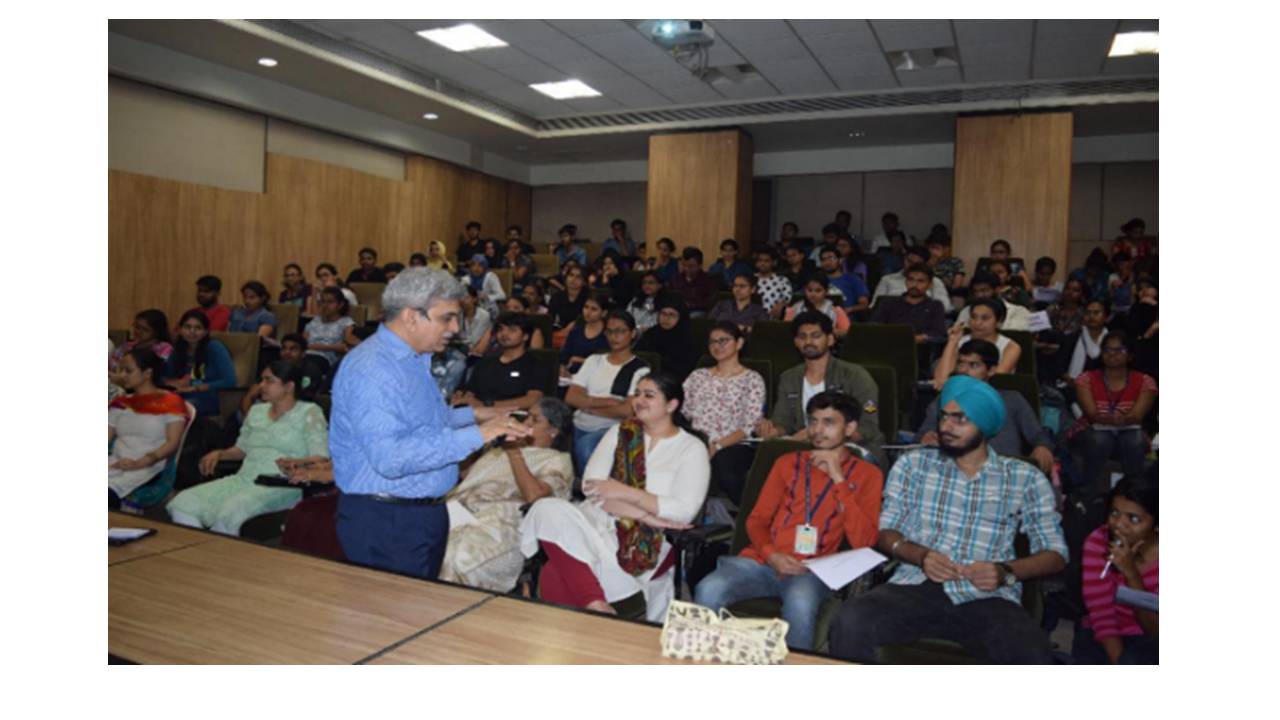 Dr. R. K. Vatsa at G. N. Khalsa College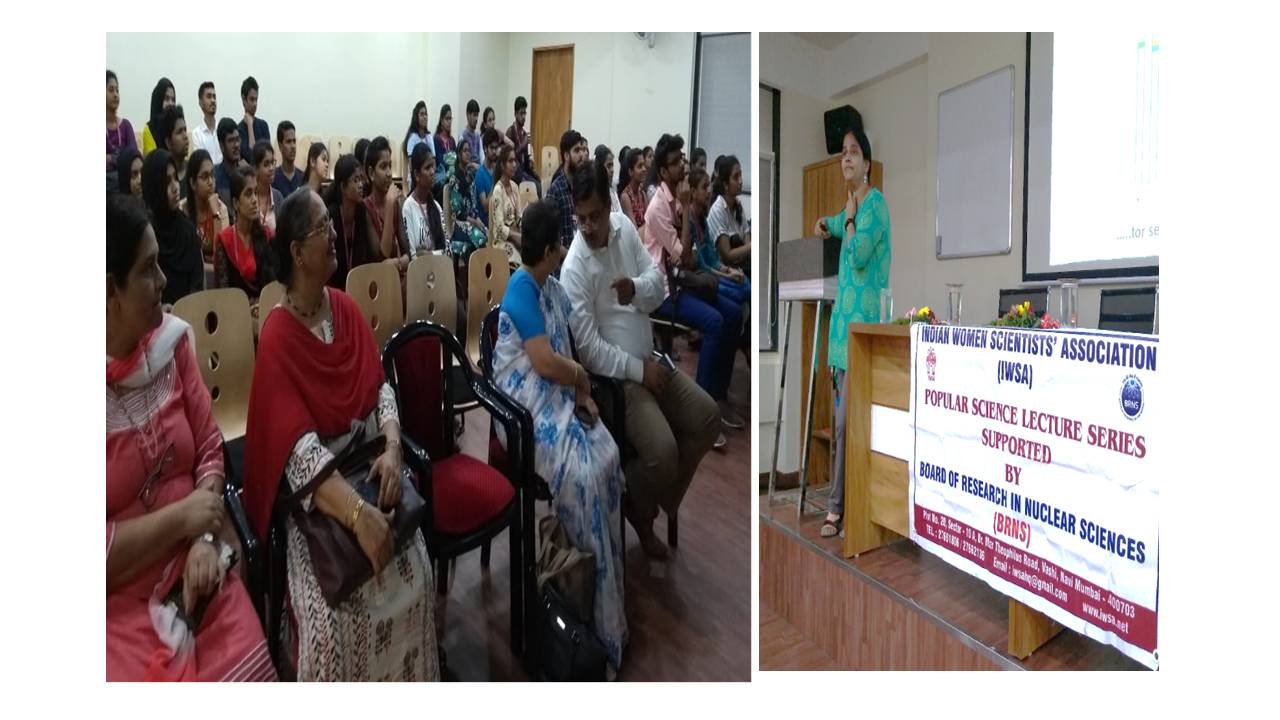 Dr. Nandita Madhavan at
SIES College, Sion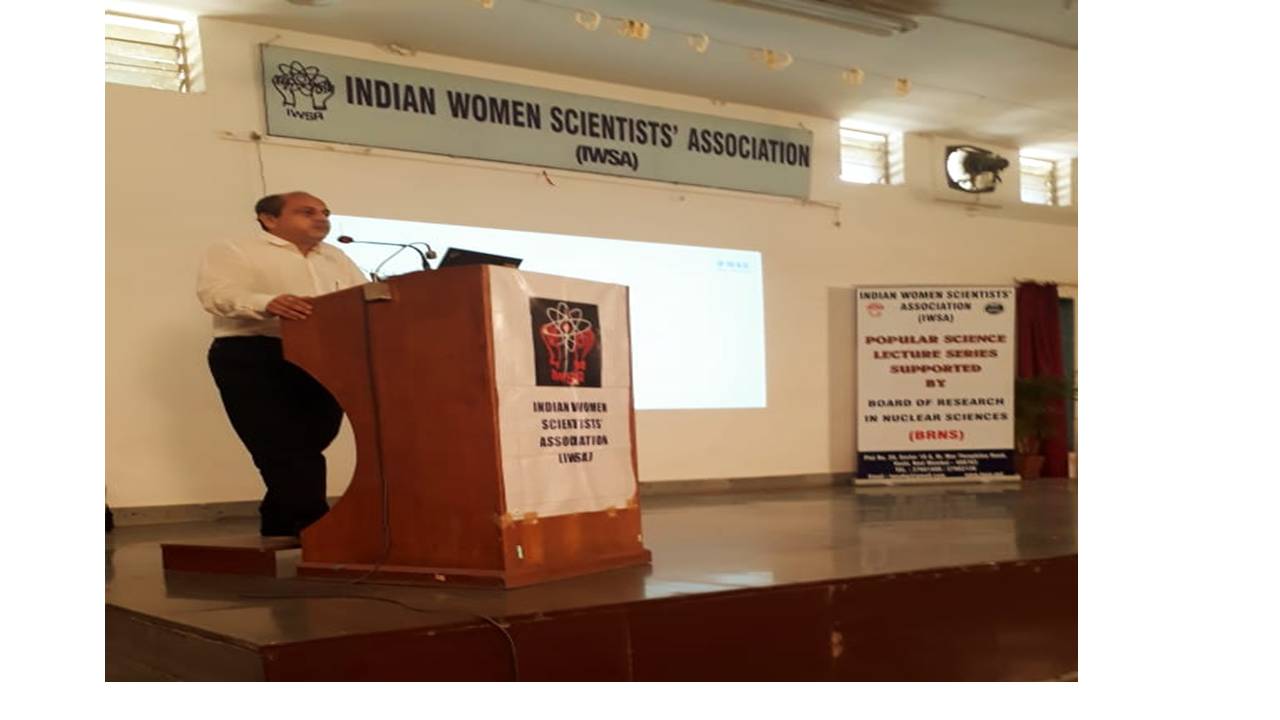 Mr. Jagdeesh Chaudhari
at IWSA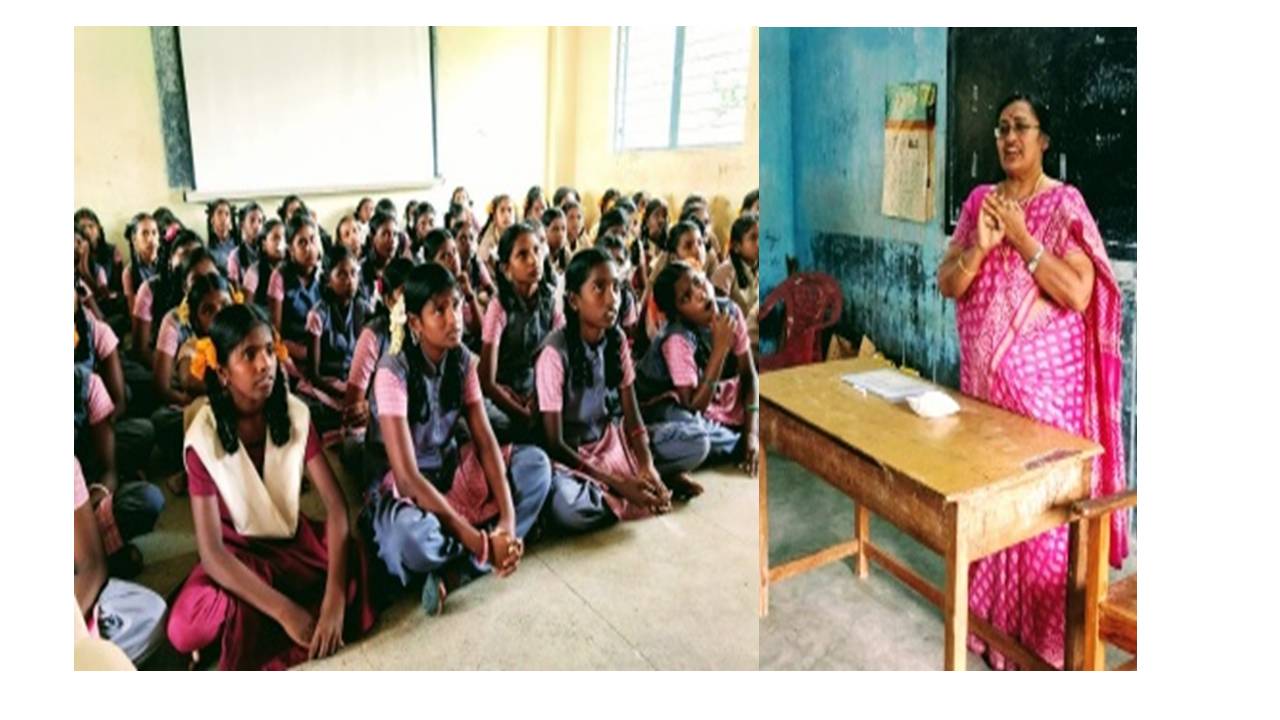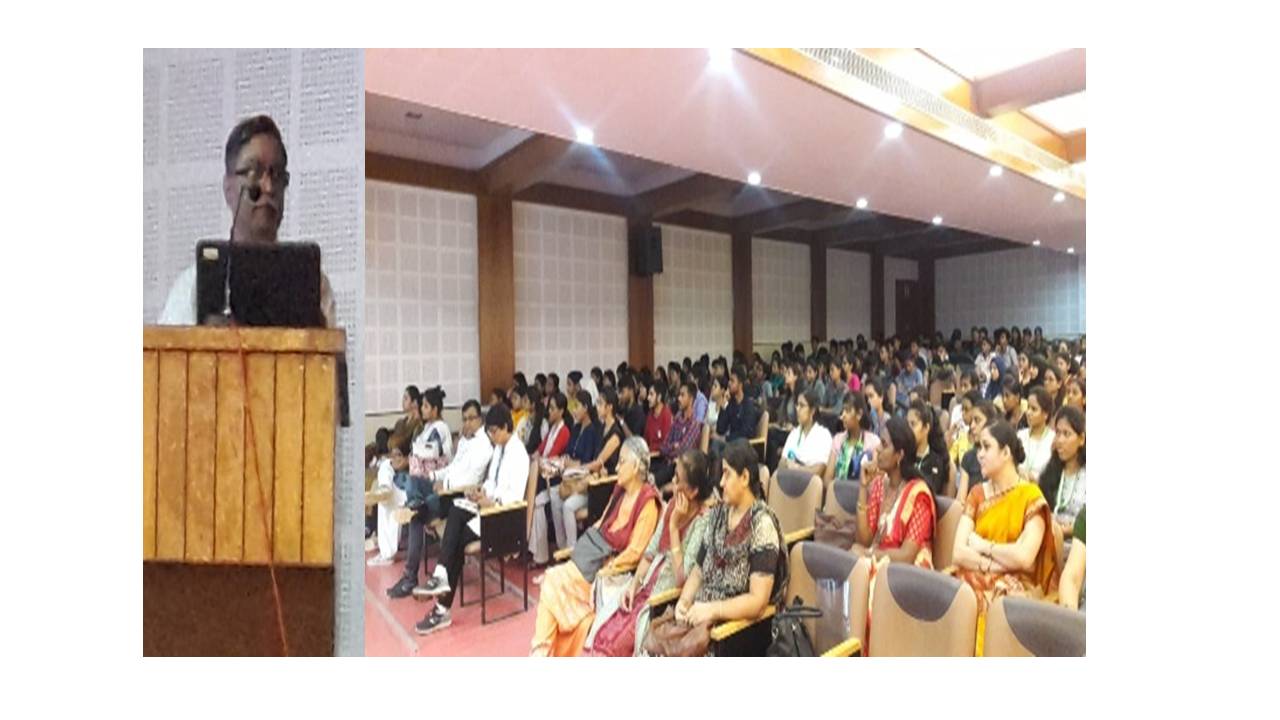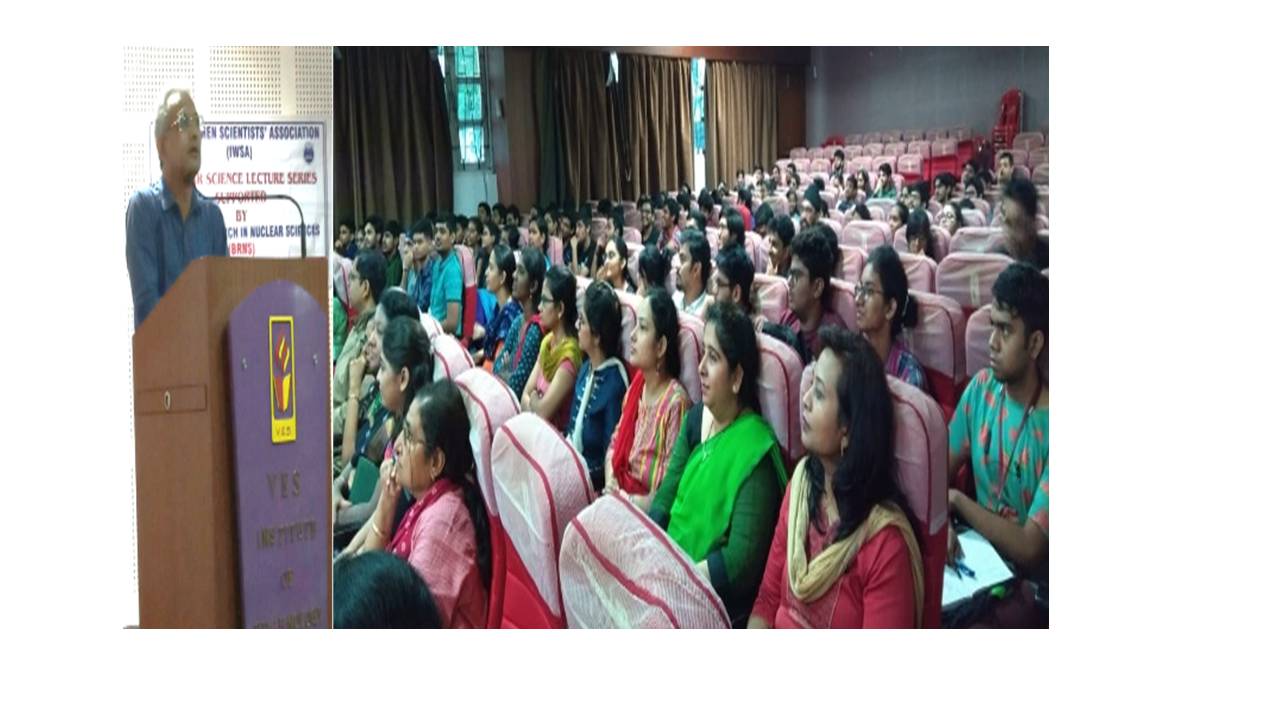 Mr. Mahesh Kshirsagar at VES Institute of Technology

IWSA has been conducting several programs in different schools and colleges for the last four decades.  Since 2012, Popular science lectures are organised under the title of "Popular Science Lecture Series" supported by Board of Research in Nuclear Sciences (BRNS), Dept of Atomic Energy, in different colleges of Mumbai and Navi Mumbai and in IWSA branches for students at post-graduate and graduate levels.
The program is intended to motivate and inspire students about cutting edge sciences and exposé them to the excellent work being done by Indian Scientists, in particular women. Lectures conducted during 2017-to date are given below.
---
Date
Speaker and Institution
Title of Lecture
Institution where the lecture was given
18th March 2021
Dr. Anala Pandit
VJTI , Mumbai Finolex Academy of Management and technology
IT and Computer Science Dept
Ratnagiri

"Machine Learning and its applications"
Finolex Academy of Management and technology
IT and Computer Science Dept
Ratnagiri
13th March 2021
Dr. Rohini Balakrishnan
Centre for Ecological Sciences, Indian Institute of Science, Bengaluru
"From Crickets to Elephants: The behavioural ecology of
Animal acoustic communication"

Department of Botany, Telangana University
Dichpally, Nizamabad – 503322
10th March 2021
Dr. Raj Hirwani,
Emeritus Scientist, CSIR-URDIP
Visiting Prof. IITB,
Adjunct Prof IITDh

"IPR and Patents"
Patkar College,
Goregaon.

9th March 2021
Dr. Manoj Munde, Asst Prof
Biochemistry lab, School of Physical Sciences, JNU, New Delhi
"Biophysical Chemistry in drug design: Impact, Challenges and Opportunities"
Vidya Bharati Mahavidyalaya, Amravati
9th March 2021
Dr. Vivek Polishettiwar,
TIFR
"Non catalytic material for climate change"
UC College Aluva, Chemistry Dept.
6th March 2021
Dr. Shweta Sharma, Scientist 'SF' Space Application Centre (ISRO) Ahmedabad, Gujrat
"38 Indian Scientific Expedition to Antarctica : Experience
Dept. of Chemistry Sri Sanatan Dhram Prakash Chand Kanya Snatakottar, Mahavidyalaya, Roorkee(Haridwar)
6th March 2021
Prof. Sachin Patwardhan IITB
"A Model based framework for intelligent system automation: An overview"
Pillai Engineering College
5th March 2021
Dr. Shalini Chahande, Asst prof
Dept of biochemistry, S.K Porwal College Kamptee
"E development :The current pandemic scenario"
Science faculty Kamla Nehru Mahavidyalaya, Nagpur
5th March 2021
Dr. Radha Jayaram
Institute of Chemical Technology, Mumbai

"Catalysis and green chemistry"
Somaiya College of Arts, Science and Commerce
4th March 2021
Dr. Shashikala A. Gangal, Former Head Dept., of Electronic Sci., & Dept., of instrumentation Sci., Savithribai Phule University, Pune
"Human Pulse Detection System & Pulse Analysis"
MES's Abasaheb Garware College, CSA Dept., of Computer Science Karve Road, Pune - 411004
2nd March 2021
Dr. Sravanti Vaidya, PhD Project Scientist, CSIR- Centre for Cellular & Molecular Biology, Hyderabad
"Antimicrobial Peptides(AMP): A Plethora of Roles & Applications "
Department of Biotechnology B.M.S. College of engg.,
1st March 2021
Dr Renuka Mainde, Nutritionist and Educator, Treasure Foods for Healthy Living
Dr Kavita Bakshi, Nutritionist and educator, Nutrition Beats Pandemic
"NetProFan NC"
Womens Technical Education and Research
Sm Ratnidevi Purohit Institute , Nagpur, Indian Dietetic association NC

1st March 2021
Dr. Chandra Viswanath
"Stem Cell Medicine"
Sophia College for Women, Life Science Dept. Mumbai
27th Feb., 2021
Dr. Umashankari
BARC,Head Reactor Physics Division group

"Power from Thorium"
VES college, Chembur
27th Feb., 2021
Dr. Nagaraj Balasubramaniam , IISER, Pune
"2D vs 3D How cells tell the difference"
Bhavan's college, Andheri

27th Feb., 2021
Dr.Annama Anil Odaneth, ICT, Mumbai
"Biobased energy options for sustainable resources"
St. Therasa's College
Botany Dept , Cochin

26th Feb., 2021
Dr. Prakash P. Wadgaonkar, Polymer Science & Engg., Division, CSIR-NCL Pune
"Wondrous World of Chemistry"
Science faculty, Bharatiya Mahavidyalaya, Amravati
20th Feb., 2021
Dr. Pratima Bose
Retd. Prof & Head Dept of Eqrthquake Engineering, Delhi college of Engineering, Delhi
"Earthquake Safety-Overview and Challenges"
Department of Civil Engineering, College of Engineering Roorkee, Roorkee
17th Feb., 2021
Dr. MNV Prasad
Emeritus Professor School of life Sciences, University of Hydrabad
"Trace Elements as contaminants and Nutrients"
St Pious Xdegree PC college for women, Hyderabad
17th Feb., 2021
Dr. Prajval Shastri
Astrophysicist, Indian Institute of Astrophysics, Bengaluru

"From solar systems to black holes: A retrospective of the new astrophysics"
Inst of Physics , Mumbai. Homi Bhabha State Univ for Physics and Chemistry
13th Feb., 2021
Dr. Nilesh Pawar
(Professor,Department of Botany, The New College, Kolhapur)
"Plant intelligence"
Department of Botany, Shivaji University, Kolhapur
11th Feb., 2021
Dr AnujaBhalerao
MBBSMD
"Post covid challenged with special reference to womens health"
Somalwars Nikalas Mahila Mahavidyalaya, Nagpur
6th Feb., 2021
Dr. Nilima Rajurkar
Former HOD Chemistry &environmental Science division SBPPU, Pune

"Radiopharmaceuticals for health care"
ME Societies Noworsjee Wadia College, Dept of Chemistry, Late V.K.Joag Path, Pune
30th Jan., 2021
Dr. Sk. Musharaf Ali, Senior Scientist, Chemical Engineering Division,Bhabha Atomic Research Centre, Mumbai
"Laboratory Experiments using Computational Modeling"
Department of Chemical Engineering, Finolex Academy of Management and Technology, Ratnagiri
30th Jan., 2021
Vikrant M. Bhor, Scientist, Department of Molecular, Immunology & Microbiology, ICMR-NIRRH, Parel, Mumbai.
"A Peep into the World of the Mighty Microbiome"
Department of Microbiology, Jai Hind College, Churchgate, Mumbai
23rd Jan., 2021
Dr. Kinshuk Dasgupta, Senior Scientist, Materials Group, BARC, Mumbai 400085, Shanti Swarup Bhatnagar Awardee 2020
"Fascinating World of Carbon Nanomaterials"
Department of Chemistry, Sophia College, Bhulabhai Desai Road, Mumbai 400 026
9th Jan., 2021
Dr. Yogesh Kashyap, Scientific Officer, BARC, Mumbai
"Advanced X-ray Imaging using Synchrotron Light Sources"
Department of Physics, Rayat Shikshan Sanstha's, Karmaveer Bhaurao Patil College, Vashi, Navi Mumbai
7th Jan., 2021
Dr. Vandana Patravale, Professor of Pharmaceutics, Institute of Chemical, Technology, Mumbai
"Computational Pharmaceutics: Can It Help Understand Drug Targeting?"



Sunandan Divatia School of Science, SVKM's NMIMS (Deemed-to-be) University, Vile Parle (W), Mumbai.
12th Dec., 2020
Ms. Ankita Susan Mathew, Senior Associate, TekIP Knowledge Consulting Pvt. Ltd., C. V. Raman Nagar, Bengaluru - 560093
""Types of IP and brief introduction to patenting process in India"


Dept. of Zoology & Dept. of Biosciences Union Christian College, ALUVA-683102
5th Dec., 2020
Dr. Sanjeev Shukla, Dean R & D, Asst. Prof. DBT / Wellcome Trust Fellow,  Dept. of Biological Sciences, Indian Institute of Science Education & Research, Bhopal
"Cellular response to Hypoxia: In devolvement and diseases"
Dept. of Biotechnology, SIES College of Arts, Science & Commerce, Sion , Mumbai
28th Nov., 2020
Prof. Sunitha C. Srinivas, Visiting Prof. Rhodes University, South Aftica
"Strengthening the Collaborative & Multidisciplinary Approach to Implement the National Vector Borne Disease Control Programme"
Dept. of Biotechnology Faculty of Life & Allied Health Sciences
26th Nov., 2020
Dr. Deepa Khushalani, Prof. in Materials Chemistry, Dept. of Chemical Sciences, (TIFR), Mumbai 400 005.
"Nanomaterials for Harnessing Solar Energy"
Department of Chemistry Maharshi Dayanand College of Arts, Science and Commerce, Parel, Mumbai-400 012
21st Nov., 2020
Dr.Pillarisetty Ratnakar, Director, Pharmaceutical Sciences, Merck & Co. Inc., New Jersey, USA
"Topic Name: Role of Microbiology in Pharma Sterile Manufacturing"
Departments of Biotechnology and Microbiology Kishichand Chellaram College, Churchgate, Mumbai
21st Nov., 2020
Dr. Devashish Rath, CRISPR Biology Group, Molecular Biology Division, BARC, Mumbai

"CRISPR: Ushering a Revolution in Genome and Metabolic- Engineering"
Link :https://youtu.be/qWPBYkAtmOw
Institute of Chemical Technology, Mumbai & TEQIP -3
23rd Oct., 2020
Dr. Annamma Odaneth from Institute of Chemical Technology (Formerly UDCT)
"Biorefinery of Seaweeds"
Department of Microbiology at V.E.S. College of Arts, Science and Commerce, Mumbai
5th Oct., 2020
Dr. Meera Venkatesh, Former, Head, Radiopharmaceuticals Division at BARC, Mumbai
"Peaceful Applications of Radiation and Radioisotopes: Focus on Biotechnology Aspects"
Link: https://youtu.be/XoLCI7L9P3Q
School of Biotechnology and Bioinformatics. D. Y. Patil,Navi Mumbai
29th Sept., 2020
Ms. Vijaya Chakravarty, Ecologist and Landscape Designer

"Nutrition in the Garden"
Link: https://youtu.be/jNCBq4nkpo4
St.Xaviers'College, Mumbai
24th Sept., 2020
Dr. Neelam Shirsat, Former Senior Scientist, Cancer Research Inst. ACTREC, Tata Memorial Centre, Kharghar
"Cancer Genomics translates basic research into clinical practice"
St.Xaviers'College, Mumbai
12th Sept., 2020
Dr. Anuj Tripathi (NABTD,BARC,
Mumbai)

"Porous bio materials in biomedical and biotechnological application"
Department of Botany Ramnarain Ruia Autonomous College, Matunga (E), Mumbai.
10th Sept., 2020
Mr. Alhad Apte, Ex-Chairman, NTRO, Prime Minister's Office.
"Importance Of Quality Of Service In Networks"
Link: https://youtu.be/4565bqogqe4
K.J. Somaiya Institute of Engineering & Information Technology, Sion, Mumbai.
5th Sept., 2020
Mr. Makarand Apte, Solidworks AI Development Director.
"Diverse Applications of AI in core Engg."
Pillai HOC College of Engineering and Technology, Rasayani
24th August, 2020
Dr. G. P. Kothiyal, Former Head,
Glass and Advanced Ceramics division of BARC
"Glass in Every Walk of Life: A Versatile Functional &
Structural Material"
N.E.S Ratnam College of Arts, Sci. & Comm,
Bhandup,(W),Mumbai
5th August, 2020
Prof. Suvarna Kulkarni, Dept. of Chemistry, IITB
"Inside NMR Spectroscopy"
SIES, Sion, Mumbai
10th July, 2020
Prof. Deepa Venkitesh,
Dept. of Electrical Engg. IITM
"Introduction to optical coherent communication"
K.J. Somaiya, Sion, Mumbai
February, 29th 2020
Prof. Sanjay Wategaonkar, Senior Professor, Chemical Sciences, Tata Institute of Fundamental Research, Mumbai
"Infrared Spectroscopy"
Dept. of Chemistry, SIES College of Arts, Science and Commerce, Sion
February, 28th 2020
Dr Prathiba Ranganathan, Professor, Centre for Human Genetics, Bangalore
"Cancer genes: From biology to therapy"
BMS College of Engineering and Biotechnology, Bengaluru
February, 18th 2020
Dr. S. K. Sahu, Scientific Officer, Environmental Monitoring & Assessment Division, BARC Mumbai
"Radioactivity in the Environment "
SIES College of Arts, Science and Commerce, Nerul, Navi Mumbai
February, 17th 2020
Dr. Sharda Sawant, Scientific Officer 'F', Officer-In-Charge, Electron Microscopy Facility Tata Memorial Centre, ACTREC, Kharghar, Navi Mumbai
"Transmission Electron Microscopy For Applications in Biology"
Karmaveer Bhaurao Patil College, Vashi, Navi Mumbai
February, 11th 2020
Dr. Arvind Ingle, Scientific Officer 'G' and Officer-in-Charge of Laboratory Animal Facility, ACTREC, Navi Mumbai
"Animals for Biomedical Research"
SIES College of Arts, Science and Commerce, Sion, Mumbai
February, 5th 2020
Mr. Kamlesh Mhashilkar, Head, Data and Analytics Practice, Analytics and Insights Unit, Tata Consultancy Services
"Artificial Intelligence and Industry Applications"
Vivekananda Education Society's Institute of Technology, Chembur, Mumbai
February, 1st 2020
Dr. Sangeeta, Senior Scientist, Physics Group,
BARC, Mumbai
"World of Sensors"
Vivekanada Education Society's College of Arts, Science and Commerce, Chembur
February, 1st 2020
Dr. Sudhir Singh, Scientific Officer, Nuclear Agriculture & Biotechnology Division, BARC
"Metabolic Engineering in Medicinal Plants"
Ruia College, Matunga, Mumbai
January, 24th 2020
Dr. (Smt.) Gouri Pandit, Adjunct Professor in Environmental Science and Engineering Department, IIT Bombay, Powai, Mumbai
"Air Quality Assessment for Sustainable Environmental Management"
Dept. of Chemistry, Kishinchand Chellaram College, Churchgate, Mumbai
January, 17th 2020
Dr. Debjani Paul, Associate Professor, IITB, Biosciences and Bioengineering Dept. Mumbai
"Microfluidic devices for Health care"
Dept. of Microbiology, Kishinchand Chellaram College, Churchgate, Mumbai
December, 17th 2019
R.P. Singh, Scientist, SASMIRA, Worli, Mumbai
" Climate Smart Agro-textiles"
PG Department of Textile Science & Apparel Design, SNDT Women's University, Juhu, Santacruz)W), Mumbai

December, 6th 2019
Dr. Chitra Seetharam Misra
Scientific Officer
Gene Technology Section,
Molecular Biology Division, BARC
"Genome editing"
School of Biotechnology & Bioinformatics Dr. D. Y. Patil University
Sector 15, Plot 50, CBD Belapur, Navi Mumbai
December 4th 2019
Dr. Saji George, Distinguished Scientist and National Chair, Rajiv Gandhi Centre for Biotechnology, Thiruvananthapuram and CEO, Bionest, Kakkanad, Cochin
"Bench to Bedside, a pharmaceutical perspective"
Bioscience Department, UC, College Aluva, Cochin
October, 12 th 2019
Dr. Sharmistha Dutta Choudhury
Radiation & Photochemistry Division, Bhabha Atomic Research Centre, Mumbai
"Understanding Molecular Spectroscopy: From Fundamentals
to Applications"
Juhu Jagruti Hall, 1
st Floor, Mithibai College Building,
Vile Parle (W), Mumbai
October, 5 th 2019
Ms. Kavita Dixit,
Senior Scientist, Bhabha Atomic Research Centre Safety Council,
BARC, Trombay
"Use of electron accelerators for everyday life"
Fr. Rodriques Institute of Technology,
Sector 9A, Vashi, Navi Mumbai
September, 20 th 2019
Dr. C. Subramaniam
Associate Professor, Department of Chemistry
Indian Institute of Technology Bombay, Mumbai 400076

"Nanotechnology: where small is exciting"
Maharshi Dayanand College Parel, Mumbai
September, 14 th 2019
Dr. A.K. Tyagi
Senior Scientist, Chemistry Division
Bhabha Atomic Research Centre, Mumba
"Evolution of Materials and its Impact on Human Lives"

Khalsa College,
Matunga, Mumbai
September 3rd 2019
Dr. Varsha Sridhar, Director and Co-founder, Molecular Solutions Care Health LLP, Bengaluru
"Clinical and Translational Networks for Impactful Innovation"
Indian Academy Degree College Autonomous, Bengaluru
August, 31st 2019
Dr. Santoshi R Prabhu, MBBS, MD, DGO, FICOG
Senior Consultant Gynaecologist and Obstetrician
Bhabha Atomic Research Centre Hospital, Mumbai
"Awareness and Management of
Gynaecological Disorders"
Vivekanand Education Society's
College of Arts, Science and Commerce
August 28th 2019
Ms. Shreeja Nambiar, an Independent IT Consultant, Science Education Advisor
"E-waste management"
D. G. Ruparel College, Mumbai
August 26th 2019
Dr. K. Prabakar, Scientific Officer (F) & Asst. Prof. in Physics (HBNI,Mumbai), Surface and Nanoscience Division, Materials Science Group (MSG), IGCAR,Kalpakkam,
"How to weight a virus"
Rajeswari Vedachalam Government Arts College, Chengalpattu
August, 13th 2019
Dr. Rohini Karandikar, HBCSE, TIFR
"Developing Scientific temper- busting Superstitions"
Jawaharlal Nehru College of Arts, Commerce, Science, Wadi, Nagpur
August, 13th 2019
Dr. Manoj
Mahimkar, ACTREC,Tata Memorial Centre,
Kharghar, Navi Mumbai

"Genomic Landscapes of Tumors"
Dept. of Biotechnology, St. Xavier's College, Mumbai
August, 3 rd 2019
Dr. Shobhona Sharma, INSA, Honorary Scientist, Institute of Technology, Mumbai, & Former, Chairperson, Division of Biological Sciences, TIFR, Mumbai
" Man, mosquito and malarial parasite: Who is ahead?"
Jai Hind
College, Churchgate, Mumbai
July, 27 th 2019
Mr. Mahesh Kshirsagar,
Tata Consultancy Services
"AI - What future holds for India?"
VES Inst of Technology, Chembur
July, 20 th 2019
Dr.
Radha Jayaram, Inst. Of Chemical Technology
" Role of Catalysis in the 'Green Chemistry'
Sophia College for Women, Mumbai
July 19th 2019
Mr. C. S. Pradeep Kumar, CEO, Biostarts Ventures, Kolkatta, Sustainability Advisor & Indian Partner, BIOSFERA FOUNDATION
"Plant Biotechnology for Sustainable Environmental Management and Bioengineering Solutions"
U.C. College, Aluva, Cochin
July, 13 th 2019
Dr. M. V. Kamath,
Reliance Life Sciences
"Overview of Plasma Fractionation"
KBP College.
June, 21st 2019
Dr. P. Vineetha, Head, Pedeatrics, DAE Hospitals, Kalpakkam
"Developmental changes during adolescence"
Govt. Adi Dravida Welfare High School at Nerumbur and Govt. Higher Secondary School at Pandur near Kalpakkam
June, 7th 2019
Mr. Jagdish Chaudhari, Lead Special Initiatives, Tata Consultancy Services
"Affordable Agriculture"
IWSA HQ, Vashi, Navi Mumbai
April, 16 th 2019
Dr. Nandita Madhavan, Associate Professor, Department of Chemistry, Indian Institute of
Technology, Bombay
"Chromatography and Its Applications"
SIES College, Sion, Mumbai
March, 28 th 2019
Dr. R. K. Vatsa, Senior Scientist, Chemistry Division, Bhabha Atomic Research Centre
"Mass spectrometry: Fundamentals,
Instrumentation and Structure Determination"
Guru Nanak Khalsa College of Arts, Science
and Commerce, Matunga, Mumbai
February, 28 th 2019
Dr. Bakhtaver Mahajan, Trustee, IWSA Board of Trustees
"Research
Methodology"
SIES College, Nerul, Navi Mumbai
February, 20 th 2019
Dr. Bobby George, Vice President & Head, Regulatory Affairs, Reliance Life Sciences Pvt.
Ltd. (RLS)
"Regulatory requirements and inherent risks &
challenges in developing Biologicals"
SIES College, Sion, Mumbai
February, 11 th 2019
Dr. Nafisa Balasinor, Sr. Dy. Director, from ICMR-National Institute for Research in
Reproductive Health
Gene Imprinting
St. Xavier's College, Mumbai
February, 5 th 2019
Dr.Sanjay Gupta, Senior Scientist from Advanced Centre for Treatment, Research and
Education in Cancer
Epigenetics
SIES College, Sion
December, 12 th 2018
Dr. Chandra Viswanathan,
Consultant, Reelabs, Pvt. Ltd, Mumbai
Stem Cell Medicine – It's going to work
Ramnarain Ruia College, Mumbai
August 11, 2018
1. "Overview of Laser Based instrumentation and special properties of Lasers "

2. "Photodetectors and optics for laser based instrumentation"

3. "Laser Based instruments for surface roughness measurement, flow visualization, and interferometric measurement"
1. Shri. A. S. Rawat

2. Shri. Nitin O. Kawade

3.Shri. A. S. Rawat

Laser & Plasma Technology Division, BARC, Mumbai
Karmaveer Bhaurao Patil College, Vashi, Navi Mumbai
August 11, 2018
"Food Adulteration and Detection "
Dr. Ajit Datar [Advisor, Shimadzu Analytical India Pvt. Ltd.]
Ground Floor Hall, Sophia College for Women Bhulabhai Desai Road, Mumbai 400 026
August 8, 2018
1. Inside NMR Spectroscopy"

2."Role of Metalloezymes in Disease"
1.Prof. Suvarn Kulkarni
Department of Chemistry, Indian Institute of Technology Bombay, Powai, Mumbai - 400 076

2. Prof. Ruchi Anand
Department of Chemistry, Indian Institute of Technology Bombay, Powai, Mumbai - 400 076

Seminar Hall, Ground Floor, Guru Nanak Khalsa College of Arts, Science and Commerce,
Matunga, Mumbai-400 019
July 14, 2018
1." CRISPR – CAS Gene Editing: Biomedical Applications"

2."Clinical Application of Stem Cell Therapy"

3."Porous Biomaterials for Biomedical and Bioengineering Applications"

4."Genetics of Hematological Disorders and its Treatment"


1. Dr. Devashish Rath (MBD, BARC, Mumbai)

2.Dr. Prathibha Shetty (Reliance Life Sciences, Mumbai.)

3.Dr. Anuj Tripathi (NABTD, BARC, Mumbai)

4.Dr. Anita Nadkarni Dy. Director, National Institute of Immunohematology (ICMR), Parel, Mumbai)
Assembly Hall, First Floor, XIMR St. Xavier's College (Autonomous), 5 - Mahapalika Marg, Mumbai – 400001.
July 13, 2018
"Rainwater Conservation: Case Studies"
Mr Ulhas Paranjpe Trustee, Jalvardhini Prathishthan, Mumbai
Ground floor Seminar Hall. Bharati Vidyapeeth College of Architecture CBD, Sector 7, Belpada Complex, Opp. Kharghar Railway Station-400614.
June 15, 2018
"SCULPTING LIGHT"
Dr. Ajith Kumar Light Logics, Trivandrum
Physics Department, Ramnarain Ruia College
May 15, 2018
"Life in the Universe"
Dr. Sujata Deshpande Asst. Professor, Dept. of Zoology St. Xavier's College, Mumbai
IWSA's ICICI Multipurpose Hall, Sector 10A, adjacent to Balaji Temple,Vashi, Navi Mumbai 400703
May 9, 2018
"Introduction to Machine Learning for Biologists"
Konrad Forstner, PhD Head, Core Unit Systems Medicine Institute for Molecular & Infectious Biology Wurzburg, Germany
Seminar Hall (6th Floor), Mukesh Patel School of Technology Management & Engineering Bhakti Vedant Swami Marg,Near Cooper Hospital, JVPD Scheme,Vile Parle (West), Mumbai.
April 7, 2018
"Coastal Zone of India and its Management"



"Environmental Modeling: A Tool for Environmental Impact Assessment"
Dr. Mahesh Zingde (An independent environmental consultant to industries and a NABET accredited EIA Coordinator)

Dr. Faby Sunny (Senior Scientific Officer, BARC, Mumbai)
SIES Indian Institute of Environment Management (Sector V, Nerul, Navi Mumbai – 400706)
March 17, 2018
1. "Introduction to Glass and Glass-Ceramics – a Special Category of Technological Materials"

2.Radioanalytical Methods
1. Dr. Madhumita Goswami Glass & Advanced Materials Division Bhabha Atomic Research Centre, Mumbai

2. Dr. A.V.R. Reddy Formerly Head, Analytical Chemistry Division, Bhabha Atomic Research Centre, Mumbai
Seminar Hall, Ground Floor Guru Nanak Khalsa College of Arts, Science and Commerce, Matunga, Mumbai-400 019
March 6, 2018
"Particle Accelerators: Rise of the Machines"
Dr. Srinivas Krishnagopal, BARC, Mumbai
K. J. Somaiya College of Science and Commerce, Vidyavihar, Mumbai 400 077
March 5, 2018
"Adult Neurogenesis and its Relevance in Basic and Clinical Neurobiology"
Dr. Bhaskar Saha, St. Xaviers' College, Mumbai
Wilson College auditorium, Chowpatty Seaface Road, Mumbai – 400 007
Feb.,24, 2018
"CRISPR: A revolutionary tool for biomedical and biotechnology applications "

"Advanced Magnetic Materials: Basic Properties and Practical Applications"
1) Dr. Devashish Rath Senior Scientist, BARC, Mumbai


2)Dr. S. M. Yusuf, FASc, FNASc, FMASc Head, Solid State Physics Division, BARC, Mumbai
Lecture Room G-12 (Ground Floor) Ramnarain Ruia College, Lakhamsi Napoo Rd, Matunga C. Rly., Mumbai
Feb.,19, 2018
"Nanocatalytic Solutions for Climate Change "




"Towards in vivo Cancer Therapy through Nanohybrids"
1) Dr. Vivek Polshettiwar Nanocatalysis Laboratory, Department of Chemical Sciences, Tata Institute of Fundamental Research, Mumbai

2) Dr. Dhirendra Bahadur Department of Metallurgical Engineering and Materials Science Indian Institute of Technology Bombay, Mumbai
Juhu Jagruti Hall, 1st Floor, Mithibai College Building, V. L. Mehta Road, Vile Parle (W), Mumbai – 400056
Feb.,16, 2018
"Renewable Carbon Engineering: Role of Chemical and Biological Sciences"
Prof. Arvind M. Lali Professor of Chemical Engineering, Head, DBT-ICT Centre for Energy Biosciences
SCAVI Auditorium, 2 nd Floor, St Xaviers College, 5-Mahapalika Marg, Fort, Mumbai – 400 001
Feb.,14, 2018
"Gene Therapy and Genome Editing"
Dr. Rita Mulherkar Former Professor & Principal Investigator, Advanced Centre for Treatment, Research and Education in Cancer Kharghar, Navi Mumbai
Multimedia Room, Ground Floor SIES College, Sion (W), Mumbai
Feb.,10, 2018
"Radiation for food security and safety"
Dr. Archana Joshi, Saha Nuclear Agriculture & Biotechnology Division BARC, Mumbai
Seminar Hall, 4th floor, Kishinchand Chellaram College, 124, Din Shaw Wachha Road, Churchgate, Mumbai
Feb., 3, 2018
Dr. Sharmila Banarjee Head, Radiation Medicine Centre, BARC, Mumbai
"Nuclear Medicine in Human Healthcare"
Sophia College for Women, Bhulabhai Desai Road, Mumbai
Feb., 1, 2018
Dr. Kakoli Bose Principal Investigator, Advanced Centre for Treatment, Research and Education in Cancer Kharghar, Navi Mumbai
"NMR Spectroscopy: An Overview "
Multimedia Room, Ground Floor SIES College, Sion (W), Mumbai
Jan.,24, 2018
Prof. Kavi Arya, IIT-Bombay, Powai, Mumbai
"Who took my Job and what can I do about it? "
Somaiya College, Vidyavihar, Mumbai
Jan.,10, 2018
Dr. Aparna Bhanushali Research Scientist & Sr. Manager R & D, SRL Limited, Goregaon, Mumbai
"Molecular Diagnostics"
Karmaveer Bhaurao Patil College, Vashi, Navi Mumbai
Dec.,13, 2017
"Human Genome Project:Applications in medicine"
Dr Rita Mulherkhar, Former Senior, Scientist, ACTREC
Ramnarain Ruia College, Matunga, Mumbai.
Dec.,12, 2017
"Understanding the Molecular mechanisms of cancer prevention by dietary phytochemicals - Experimental models to clinical trials"
Dr Girish Maru, Honarary Consultant, (ACTREC)
Padmashree, DY Patil Univ Dept of Biotechnology, CBD, Belapur
Dec., 8, 2017
"Is water the coal for future"
Dr Shyamala Bharadwaj, IWSA, Secretary
Sophia College for Women, Bhulabhai Desai Road, Mumbai
Dec., 2, 2017
"Secondary metabolites and metabolic engineering of medicinal plants"
Dr Sudhir Singh, NABTD, BARC, Mumbai
VES college, Chembur, Mumbai
July 28, 2017
"Analytical Instruments Touching your life"
Dr G Ramakrishnan, President Chromatographic Society of India
Sophia College for Women, Bhulabhai Desai Road, Mumbai
June 10, 2017
"Where From Do Innovative Ideas Come? "
Ms. Nidhi Pant Co-Founder of Science for Society Pvt. Ltd. Winner of Best Sustainable Startup Award at Food+City 2017 at University of Texas Austin – International Supply Chain Challenge
Karmaveer Bhaurao Patil College, Vashi, Navi Mumbai
For lectures before this click here